Installment 4 of 15 (The 15 Project)
Here is the next installment of 2015's ongoing "15" photo project. This is a photo-journalism story of the Scuppernong Bookstore in Greensboro, NC. I highly recommend visiting this place with a wonderfully literary atmosphere. Books, Wine, Community. Scuppernong. It's best to check it out in person (if you're ever in Greensboro). However, you are welcome to check it out vicariously through this photo essay.
You can look at the photos here, but it's more easily viewed on the gallary page. If you're interested, you should also check out 1, 2 and 3.
4.1/15 - Scuppernong
It's the state fruit of North Carolina.
It's a large variety of muscadine, native to the Southern US.
It's a most unique bookstore in downtown Greensboro, NC.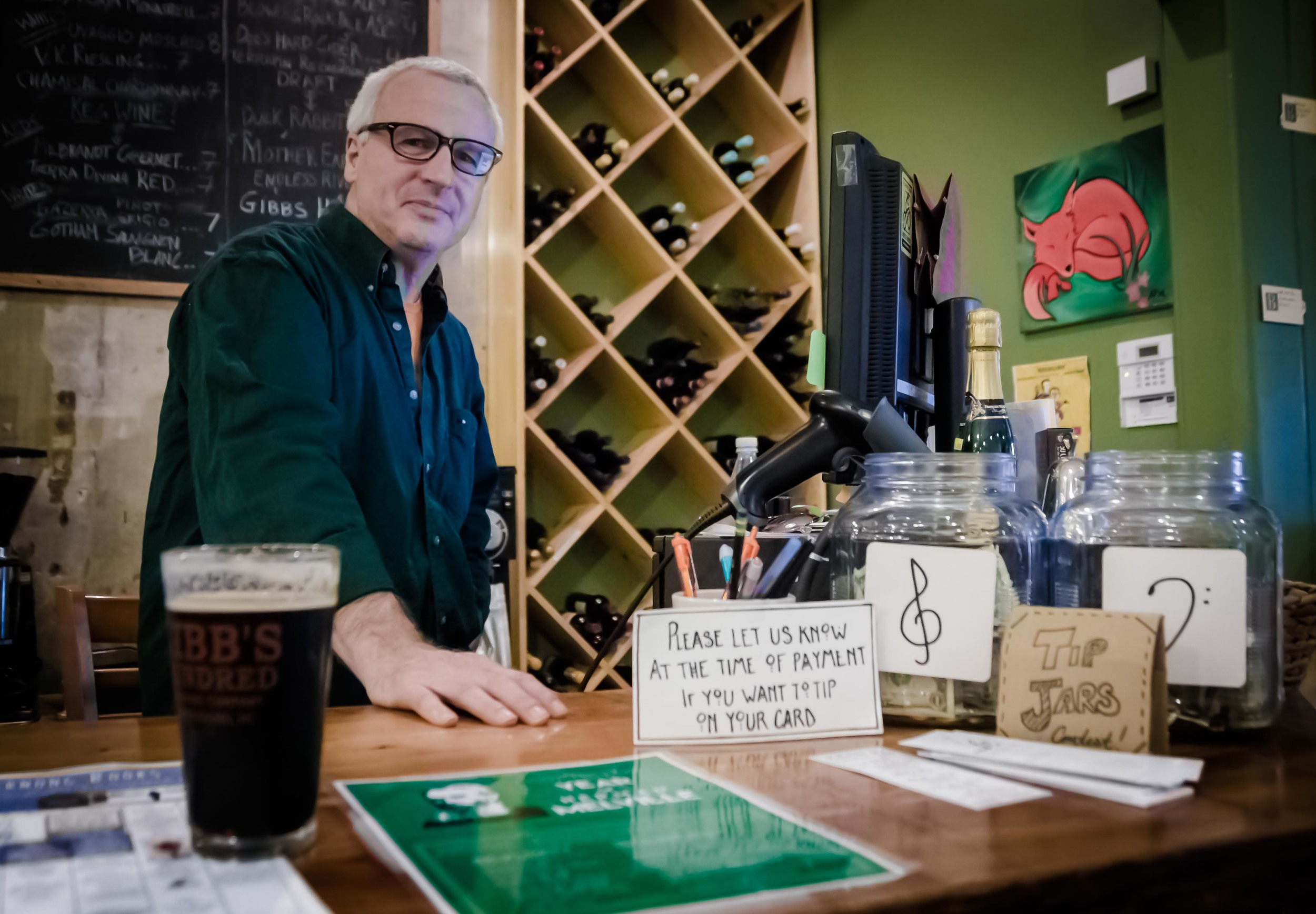 4.2/15 - Brian Lampkin, Owner/Operator
On the first evening I discovered Scuppernong, I met Brian, the owner. He's a soft spoken visionary, who is an absolute pleasure to converse with.

Brian shared a bit of his story, moving to Greensboro from Buffalo, NY, and opening this bookstore in 2014. His vision for a store that becomes a real-life community is truly fantastic. In an era where "virtual community" (whatever that is) is usually the best you're going to get, it was refreshing to step into a place where community with real people, reading real books, drinking real coffee (or wine or craft beer, should you prefer) and having real conversations was a breath of fresh air.
4.3/15 - A Selection of Wines
Scuppernong has a large variety of wines and craft beers, as well as menu good things to eat.
Both of the meals I had were full of flavor and satisfaction.
4.4/15 - Rachel and Shannon
These two were working the second night I visited Scuppernong.
I must say that I was impressed with the apparent artisan community in Greensboro. Rachel and Shannon informed me that Winston is where the center of the arts community in the Triads of North Carolina has historically been seated.
Shannon was quick to share, "It wasn't that long ago that downtown Greensboro was just dead. That's changing though."
4.5/15 - Reading our Rights
Greensboro is where the modern Civil Rights movement in the US essentially began. In 1960 a courageous group of African American students refused to leave the lunch counter at the Woolworth's in downtown Greensboro. That began a nationwide movement of sit-ins, a start toward fair and equal treatment for people of color.
Scuppernong had an designated area of curated titles which point to the history of this community. There are several other curated areas of the store which specialize in the issues and complexities of our day. The titles are not going to be typical "bestsellers" (although they do carry those). But I many literary treasures. It's worth the hunt.
4.6/15 - Better than New
This is my favorite section of any book store.
Scuppernong had a great selection of used books. Most of which could be obtained for the price of a cup of coffee. There are treasure here, and Scuppernong's is a great place to spend the time necessary to treasure hunt.
4.7/15 - Happiness
The longer I was inside this store, the more the physical location really brought joy. High ceilings, bricked walls, original hardwood flooring. It's the perfect building inside of which a community can be built.
Happiness is ... an old bookstore with brick walls.
4.8/15 - Hardwood
Scuppernong offers memberships. For a mere $20 per year/$100 per lifetime, one can enjoy discounted books ... and discounted coffee. Plus the joy of being a par to the Scuppernong family.
With or without a membership, an afternoon of work with free wifi and great coffee - that's priceless.
4.9/15 - Local
In the late 1800's as many as 60 trains per day would come and go from the Greensboro train station. From that time until the preset, Greensboro is known as "The Gate City".
Food is locally grown. Coffee is locally roasted. Wines and beers are locally brewed. There is an emphasis on local writers.
Not everything is local, of course.
But Scuppernong embraces all that is Greensboro. I deeply appreciate that.
4/10/15 - Where Everyone Knows Your Name
The customer service at Scuppernongs has a friendly, hometown appeal. I witnessed several regulars come and go with coffee and sandwiches throughout the evening I was there.
4.11/15 - Writer's Paradise
Scuppernong seems to be a place that appeals to the literary crowd of all ages.
I was sitting at the bar waiting for some other interesting shots, when this young lady saddled up to bar and ordered a root beer. She smiled and me and said she hadn't had a root beer in a long time, and she hoped it was good. We chatted for a bit. Her name is Pat Henson, and she is a published author, a memoir writer. She shared with me how she became published in a local magazine,
Pat is quite excited, however, about the fact she's submitting some of her life stories to Appalachian Country Living magazine. She bought a copy in the grocery several weeks ago and decided to submit. She's waiting to hear form them.
I join Pat in hoping for a yes.
Oh, and apparently the root beer was "absolutely delicious"
4.12/15 - The Year of Melville
Scuppernong is the proud sponsor of "The Year of Melville". A book discussion group is just finishing up the discussion of Moby Dick.
""I know not all that may be coming, but be it what it will, I'll go to it laughing." Melville, from Moby Dick
4.13/15 - Readings
Scuppernong has regular events. Both of the nights I visited this literary Mecca in the Carolinas, there were events taking place in the back of the store. Book discussions, poetry readings, "meet the author" sessions - there are interesting events weekly.
4.14/15 - Memoirs
When I met Pat (in a previous photo) I thought it interesting that she was a memoir writer. Turns out, Scuppernong was full of memoir writers, and readers alike. A couple of local memoir writers were doing public reading of their writings.
The room was full native north Carolinians - including an elderly woman who is a local poet, among other local authors.
It's was Pat's first time to Scuppernongs, but she entered into a community. It was beautiful, really.
4.15/15 - Books, Wine, Community
Scuppernong's Bookstore. I can't recommend it enough. In the heart of downtown Greensboro. It's worth a long visit, should you ever be in the area.