1 (The Greenville Furniture Exchange)
As promised, I'm posting the first of 15 projects in story-telling and photojournalism. This is the about Tony and the Greenville Furniture Exchange on Poinsett Highway.
Hope you enjoy.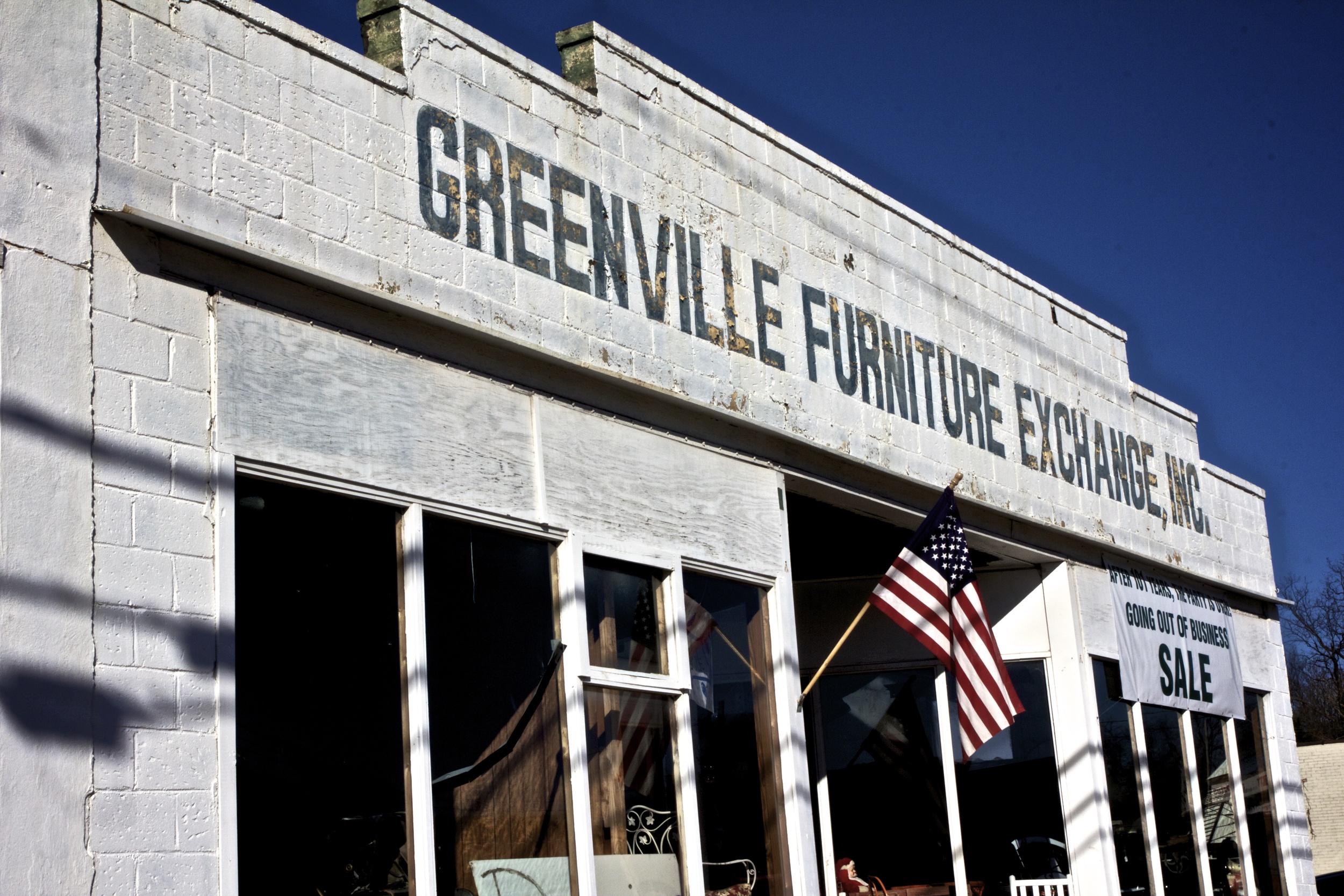 1.1/15
The Greenville Furniture Exchange is going out of business after 100 years. Renee' and I had stopped by there to see what was inside. Apart from a several interesting pieces of old furniture (we purchased a bookshelf and small red dresser), we also met Tony. After going back a second time and chatting with this interesting Greenville native, I decided he, the store and their story would be perfect for the first installment of my 15 Project.
1.2/15
The owner and operater of the Greenville Furniture Exchange is a slender southern gentleman of Irish decent. His softspoken draw and genteel ways are vestiges of a former era. Don't be fooled, though. When the buzzer in the office sounds, signaling that someone has come through the front door, Tony is nimble on his feet and ready move furniture out the door. After 40 years in the furniture business, he knows how to make a deal.
1.3/15
The Greenville Furniture Exchange began in 1914 with Tony's Irish grandmother selling victorian furniture on the streets of Chicago. The family later moved to the upstate and the business was taken over by his father and uncle. They began to sell furniture "on credit" and that's how Tony started his long career in the furniture business.
1.4/15
"I started when I was 14 years old collecting from folks who bought on credit." Immediately I had this image of a young teenager in the mid-1950's pedaling around the neighborhoods of Greenville, collecting a dollar or two from folks who'd purchased their new armoir on credit. My guess is that some of those pieces are probably still sitting in a living room today.
1.5/15
The Greenville Furniture Exchange has been at it's Poinset Highway location for 69 years. While the rest of Greenville has experienced a significant uptake over the past 25 years, Poinset highway has remained virtually untouched by Greenville's development. Tony observed that "these businesses along here are small and can't afford to move. So they close or sell. That's what I'm doing."
1.6/15
"My first counsin, Larry, and I started traveling to New Jersey to pick up pieces in the mid-60's. I've probably been to New Jersey three hundred times." Tony related to me times when he had to pick up furniture in blizzard conditions. He doesn't go to Jersey so much any more. He's more interested in selling what's left
1.7/15
Tony pointed out the various oddities around the frigid, non-climate controled showroom. "I started finding fun little items like old sleds and these children's wagons. People used to buy this kind of stuff. It's fun to have around."
The showroom also has what appears to be remnants of a "haunted showroom" scattered around. I asked Tony if they'd sponsored some sort of Halloween event. He laughed. "That's George." George lives across the street and has been working with Tony for decades. "He loves putting that stuff around here. The kids love it, too. It scares some of them. But they love it."
1.8/15
There's a workshop in the corner of the showroom. Gearge works back there (he was off work this particlar day). "George can fix anything." Tony bragged on his long-term employee and friend. "His education doesn't go past the third grade, but he's one of the smartest men I know. He really can fix anything." The workshop is littered with equipment and tools for furniture repair.
And then there's a meat grinder. I didn't get the story behind the meat grinder. However, it is for sale.
1.9/15
I wandered the 7,500 square foot building that's for sale, while Tony waited on a potential customer. It's east to lose oneself in this place, as corner to corner is filled with oddities from days gone by. These are probably not things most would purchase to place in a living room anymore.

"I've sold a lot. I'm through driving to Jersey. What you see is what we have"
There's still a lot left for someone to purchase.
1.10/15
"Young people these days don't know a good piece of furniture when they see it. You can go to modern showroom and pay a lot of money for a piece of furniture made of pressboard. What people don't realize if that it won't last. Real mahogany, now? That's good furniture." He slapped his hand, then carressed an old mahogony sideboard. "You can refinish and repair this, and it will last multiple lifetimes."
1.11/15
"We've never had a Dowling retire from the furniture business. Larry tried, but didn't make it. I want to be the first."

I asked if he's had any serious bites on the property.
He replied with hopefulness and a grin.
"Not yet."
1.12/15
"I travelled to Kilkenny once. Ireland is a beautiful place." Tony wistfully pondered his Irish roots. "It's so green. Beautiful place. I never got over to Scotland, though." There was only the tiniest element of regret in his voice. He then looked at me with a sparkle in his eye. "I want to sell this place so my wife and I can travel a little bit. Maybe we'll get to Scotland this time. I'd like to enjoy a little bit of retirement."
1.13/15
Tony's grandmother had a love for antique victorian furniture. When his father took over the business and started selling new furniture on credit. It wasn't until later, when Tony and Larry took over the business that the Greenville Fruniture Exchange began sellling antiques again.
1.14/15
After 40 years, antiques and peeling paint are pretty much all that's left.
1.15/15
"I tell my kids, I tell my grandkids, you need to be smart. Get an education. Do what it takes to go to college. You don't to just have a job where you get a paycheck. You want to do something more." Tony confessed that he did have some college under his belt. But, he's not interested in passing the furniture business on to his family. "My Dad, uncle and first cousin all worked until the day they died. I don't want to do that."
The bell rand and another customer came into the showroom. Ever shy of the camera, and ever-ready to help a potential customer, Tony jumped up to assist the newcomer. This could be the one to buy it all.